How to Make Peanut Butter Ice Cream
Peanut butter and ice cream are two favorite by American people and other European countries. The peanut butter ice cream combines the two delicious things together. People always say that art comes from life and goes beyond it. From American TV show, sitcom, drama and movies, peanut butter and ice cream are everywhere. The ice cream in the US is different from we have in China, because they usually buy a large basket of ice cream and put them in refrigerator and take some out when they want. The ice cream is China is usually a small piece and you can have one each time. It is said that each year the ice cream consumption in the US is about 3,800,000,000 kg.
In the following, this article will concentrate on introducing how to make peanut butter ice cream, in this way you can have ice cream with your friends at home.
Ingredients,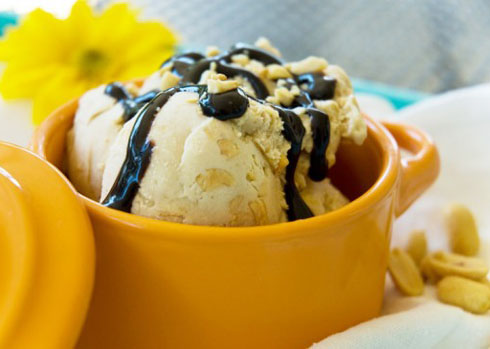 1 cup soy or cow milk
3/4 cup sugar
3 eggs
1/2 cup smooth natural peanut butter
1&1/2 cups heavy cream
2 tsp vanilla extract
1 cup salted, roasted, shelled, chopped peanuts.
1, Heat milk in a small saucepan until hot. Meanwhile, beat sugar and eggs together in a medium bowl until thick and pale yellow.
2, Gradually whisk hot milk into egg mixture in bowl, then pour milk-egg mixture back into saucepan. Return saucepan to medium-low heat and cook custard, stirring constantly with a wooden spoon, until it is thick enough to coat the back of the spoon, about 5 minutes. Remove saucepan from heat and stir in peanut butter.
3, Strain custard into a large bowl, let cool briefly, stirring often, then stir in cream and vanilla. Cover and refrigerate until cold.
4, Place the chilled ice cream into the freezer. When the edges begin to get firm, take it out and whisk it up. Put it back into the fridge for 30–60 minutes, then whisk again. Repeat until the ice cream is set, stirring in the chopped nuts right about at the point at which you think you might have only one or two more rounds of stirring left before the ice cream is set.
5, Freeze until hard. Serve ice cream topped with nuts, pretzels, and/or chocolate syrup.
Product List